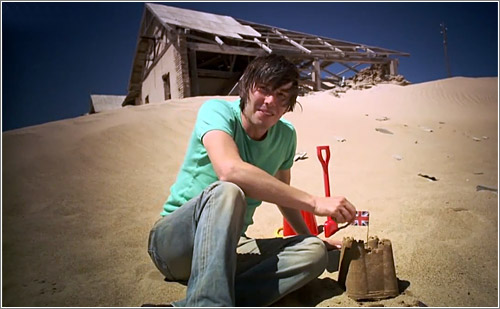 Wonders of the Universe, una miniserie documental de la BBC, es una especie de continuación del estupendo y divulgativo Wonders of the Solar System emitido el año pasado. Protagonizado por el profesor Brian Cox, «el nuevo Carl Sagan», Wonders of the Universe más grande, más bonito, más osado y con más presupuesto que la primera parte. En total, cuatro horas en cuatro episodios a cual más entretenido.
El resultado es notablemente más grandioso, bello y épico que el original: ya solo en el primer episodio Cox visita tres continentes, una decena de parajes tan inhóspitos como impresionantes, incluyendo el glaciar Perito Moreno en Argentina, Chankillo en las montañas de Perú, las playas de Costa Rica y los desiertos de África… algunos de ellos para explicar una metáfora (!)
El tema del primer episodio es la flecha del tiempo y la implacable segunda ley de la termodinámica, para comenzar a situarnos de la forma más humilde posible en el Cosmos. Como detalle homenaje al maestro Sagan, una casi-repetición de la secuencia sobre el pálido punto azul, casi tan emotiva como la original. Los otros tres episodios están dedicados al fenómeno de la vida, la gravedad y las propiedades de la luz.
Altamente recomendable sin duda para públicos de todos los tipos: quien guste de las explicaciones científicas tiene material para entretenerse, quien quiera algo de divulgación entretenida puede quedarse con las metáforas y el humor británico del narrador y quien simplemente quiera algo de espectáculo solo tienen que pasarlo todo por la pantalla de televisión en HD y con el volumen bien alto. [Nota: aunque el vídeo en la web de la BBC «is not available un your area», se puede descargar cómodamente en HD de los sitios de torrents habituales.]
Actualización: Wonders of the Universe estará disponible en Amazon.co.uk en Blu-Ray y DVD a partir del 4 de abril.


Notice: Undefined variable: global_ads in /var/www/vhosts/microsiervos.com/httpdocs/archivo/ciencia/wonders-of-the-universe.html on line 292